Check this page for solutions to issues with online payments and your Ziply ID.
Online Payment Issues
I lost internet access while making a payment
Don't worry. Your payment is not complete until you reach the confirmation page. If you lose access during your payment, click My Payments > Payment History. If a payment was processed, you'll see it at the top of the list. If it isn't there, it's safe to submit another payment. You won't be charged twice.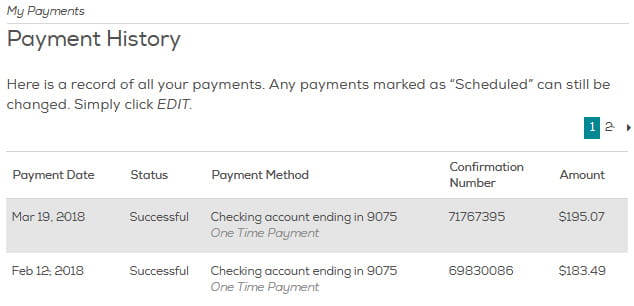 My checking account has insufficient funds
If this happens, we'll re-submit your payment once. If the payment fails again, your bill will not be paid. Your bank may charge you a service fee.
To avoid a failed payment, log in to My Account with your Ziply ID and password. Make a one-time payment with a different credit card or bank account. Click My Payments > Make a Payment and follow the steps on the screen. For detailed instructions, see Make an Online Payment.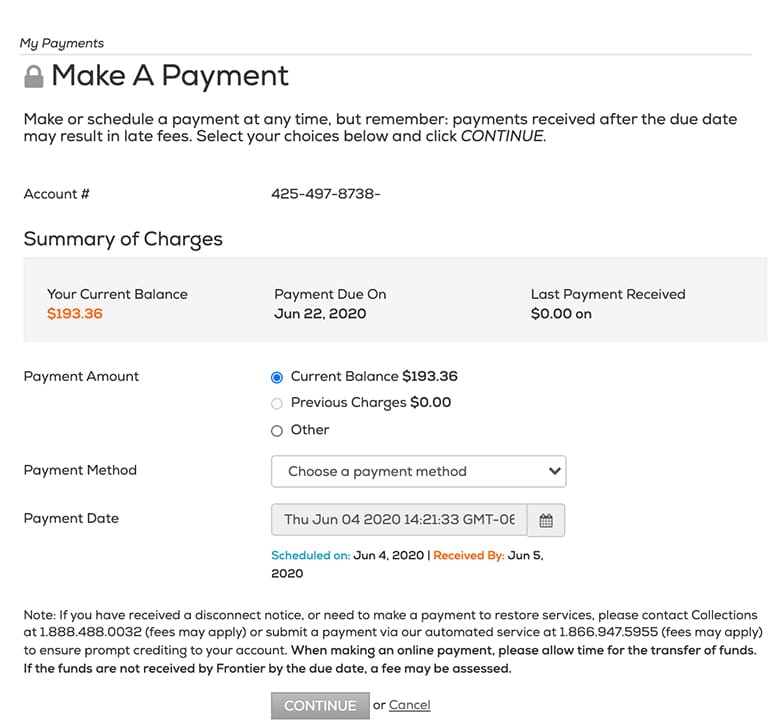 My account is past due
Contact us to avoid an interruption of service. Paying online or by phone will get your account up to date the fastest.
I can't edit my autopay settings
If you set up automatic payments with a customer service agent, and you want to make changes, there's an extra step to take. Delete your existing autopay rule and create a new one.
You can edit your new autopay rule by logging in to

My Account

and clicking

My Payments > Manage Autopay

. Click

Edit Autopay

to change your payment method and the date you want to pay.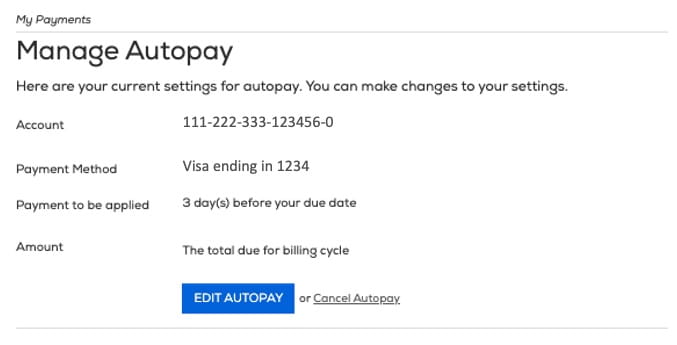 I need to resolve a billing dispute
If you disagree with your payment history or balance due, contact us. We'll work with you to settle the problem.
If your service is suspended, contact us.
If your account is suspended for lack of payment, contact us and pay by phone for the fastest action. Your service will be restored once your full payment is received and verified.
Ziply ID Issues
I'm concerned about my privacy and security
Here's how we protect your Ziply account:
We encrypt your financial information and store it in our secured database.
We partially mask your information (e.g., XXXXXX1234) when presenting it in

My Account

.
We process your payment by sending encrypted data through a secure banking network connection.
Using My Account will not cause you to receive spam email. You can opt out of non-billing related, informational emails at any time. We do not sell your personal information to third parties.
Please read our Terms and Conditions and Privacy Policy.
I never received my Ziply ID verification
Try this:
Your Ziply ID is the email address you provided to us
In order to create a password, or if you have forgotten your password, please visit ZiplyFiber.com/ForgotPassword
a. Enter your email address and click continue.
b. Follow the steps to verify and choose a new password
c. Once a new password is setup, please visit ZiplyFiber.com/Login to access your account
I can't log in with my Ziply ID
Make sure you've completed the process by clicking the link in your verification email. If you haven't received the email, see I never received my Ziply ID verification above.
I can't access my account online—even though I've gotten in before
Check your internet connection.
Check your credentials: Access the Ziply login page and select the Ziply ID / Username

Forgot?

link.


If payment is due and you can't login to your account, you can also:


Pay by phone 1.866.947.5955
Mail your payment to:

Northwest Fiber
P.O. Box 740416
Cincinnati, OH 45274-0416
Important: If your account is suspended, please contact us so we can assist you as mailed payments will take 7-10 business days.