Managing inbound calls is a crucial part of how an organization handles everyday business. Auto-attendants enable identification, segmentation, and routing of callers to the most appropriate agent within your team. It's a simple, effective, and completely customizable tool which will significantly reduce costs and increase efficiency within any company.
Auto-attendants are easy to build and modify. The editor lays out your routes into clear columns and rows so you can see exactly what you're building and how it all fits together. Changes are saved in real time, so you won't lose any edits—even if you close the window. Incomplete auto-attendants will also be saved so they can be edited and completed later.
Auto-Attendant in the Voice Portal
In Business Cloud > Auto Attendant, you can see all the auto-attendants on the account, including the assigned phone number(s), last modified date, and status. You can build and keep as many auto-attendants as you need. Changes are saved in real time, so you can start building now and come back to finish it later.
If you don't see Auto-Attendant in the menu, please contact Customer Support.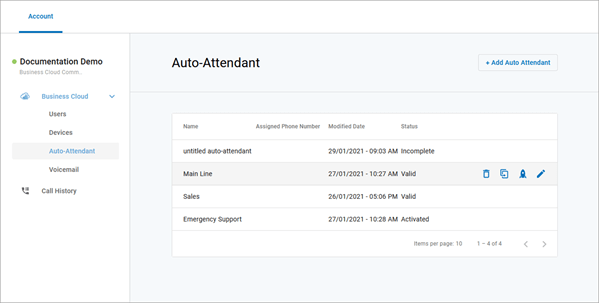 Field
Description
[+ Add Auto-Attendant]
Start creating a new auto-attendant. The builder will open in a new window so you can look back at the auto-attendant list if you need to reference it for anything.
Name
The name of the auto-attendant. If a name wasn't saved, it will be named "untitled auto-attendant" by default.
Assigned Phone Number
The phone number(s) directed to this auto-attendant. A phone number must be assigned before calls can be directed through the auto-attendant. If this is blank, contact Customer Support for assistance.
Modified Date
The last date the auto-attendant was modified: month, day, year. time of day.
Status
• Incomplete. There are open routes that need to be closed before the auto-attendant can be launched.
• Valid. All routes are closed and it's ready to be launched (activated).
• Activated. The route has been launched and it can now be assigned to a phone number.
• Linked. A phone number is linked and this auto-attendant is live.
Tools

Hover over an auto-attendant to see the tools on the right.

Field
Description
Delete
Permanently delete this auto-attendant. This cannot be undone. Before deleting an auto-attendant, we recommend that you redirect the phone number first, so calls aren't inadvertently sent to an attendant that no longer exists.
Duplicate
Make a copy of an auto-attendant so you can make changes
Launch
On a Valid auto-attendant, click the Launch icon to activate it so the attendant will be available as a destination in the Phone Number menu. Go to Phone Numbers > Edit to assign the number to this auto-attendant.
Deactivate
Deactivate the auto-attendant. Activated status will be downgraded to Valid, and Linked status will be downgraded to Activated.
Edit
Make changes to an inactive auto-attendant in the builder. Changes are saved in real-time, active auto-attendant cannot be edited.