Washington State K-12 Internet Access Program
---
Keeping our children safe during the pandemic means the vast majority of our community have been transitioned into some form of remote learning. The unfortunate reality is tens-of-thousands of students across the state lack viable internet connections to access this type of education platform. Ziply Fiber believes everyone should have access to quality, reliable internet, which is why we're proud, as a Washington-based company, to play an important role in this state's program.
Ziply Fiber is working with the State of Washington to provide the service to up to 60,000 students and their families through the end of the 2020–21 school year at no cost to the family. The program is reserved for students who are low-income and did not have internet access before August 2020.
To participate in the program, eligible families will receive information, including a promo/offer code for Ziply Fiber, from their local school district . Families will sign up with Ziply Fiber and have equipment installed By Ziply Fiber, and then be able to connect to remote learning.
Ziply Fiber is dedicated to investing in our local communities, and continually exploring new ways to ensure our friends, families and neighbors have the best opportunity to learn and grow online unimpeded by economic circumstances.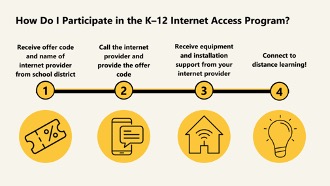 Already have your offer code? Call to sign up at: 866-916-0139
For More Information: