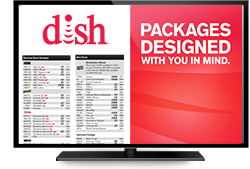 Please visit the DISH website to download your DISH® TV channel guide. We recommend printing out as many as you need!
You'll also find the most up-to-date DISH TV product manuals are available whenever you need them at www.mydish.com/support where you can find manuals for DISH receivers and remote controls.
To add to your existing DISH package, change your service, or bundle your existing DISH Service with Ziply Fiber, chat with us online or give us a call!