Once you've opened a trouble ticket you can track it online with any of these options:
How to find your ticket:
If you are not logged in to your Ziply Fiber account:
Click

Ticket Status

on Ziplyfiber.com or the Help Center
Enter:

Ticket Number

—You received this by phone or email when you created your trouble ticket

Service Address Zip Code

—Zip Code for the location where you receive Ziply Fiber service

Last Name or Business Name

—The last name of the account owner or the business name
OR

Account Number

Click the checkbox that says "I'm not a robot"
Click

Check Status

.
If you are logged in to your Ziply Fiber account, simply click Check Trouble Ticket Status in the Account Summary menu.
What you'll see: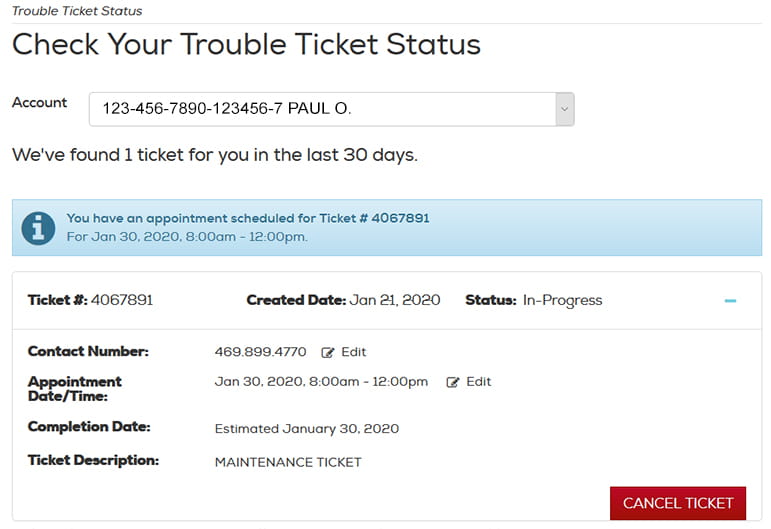 Your Ticket Status includes:
Ticket Number

Created Date

Status:

In-Progress, Completed, or Cancelled. Hover over the status to see an explanation.
Ticket details listed:
Phone Number

associated with ticket (click

Edit

to change the number, then click

Save

)

Appointment Date/Time

(if you have one)

To cancel your appointment, simply click the red

Cancel Ticket

button
To reschedule your appointment*:

Click

Edit

next to the appointment time
Select a new date and time and click

Save

Completion Date

or estimated completion date

Ticket Description
*Note: You may not reschedule an appointment time that is set to happen within 24 hours.
To cancel your ticket, click the red Cancel Ticket button.